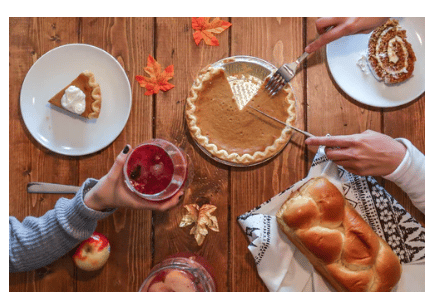 Thanksgiving is one of the few days of the year when you can throw your diet out the window. Even so, we believe you should avoid or limit certain types of foods. We outline some common Thanksgiving foods to avoid for the sake of your dental health.
1. Cranberry Sauce
Cranberry sauce is a fall staple and goes great as a topping for both sweet and savory dishes. Cranberries are naturally tart and sour, which is why most premade cranberry sauces are loaded with sugar. Any family dentist will tell you that foods with high sugar content and zero fiber are a no-no.
2. Sweet Potato Casserole
Sweet potatoes are healthy. However, common casseroles with sweet potatoes often contain marshmallows as a surface topping. Marshmallows are not only sweet but also sticky, a deadly combination for your teeth. If you love casserole, consider a savory alternative with natural herbs and spices.
3. Stuffing
Many people are surprised that stuffing is bad for teeth. Stuffing is made from refined starches. These are sticky and convert to sugar when dissolved by saliva. Try making stuffing made from fiber-rich beans.
4. Alcohol
Our cosmetic dentists always advise limiting alcohol intake because it stains teeth. Even worse, alcohol inhibits saliva production, leading to a dry mouth that encourages bacterial growth.
5. Common Holiday Desserts
This is a broad category that includes pumpkin pies, cupcakes, caramel corn, and holiday-themed cookies. Limit these to a morsel or a single serving at most. Instead, consider fruit slices with Greek yogurt dip.
Schedule an Exam this November
By all means, indulge this Thanksgiving. However, you should still set limits. Frequently not setting food limits is why most people need to see an oral surgeon in the first place. Mukilteo Dental Arts outlines these Thanksgiving foods to avoid in order to have an enjoyable yet healthy holiday.
Family Dental Exams for the Holidays
General family dentistry for Mukilteo, Everett, Lynnwood, Edmonds & Mill Creek