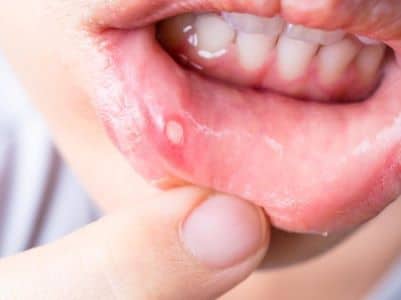 You can't help but groan when you notice a canker sore appearing on the inside of your lip or gums. These ulcers are painful and take the joy out of eating. Brushing also becomes a nightmare. A number of factors influence the formation of canker sores. Your dental hygiene habits might be one of them.
What Causes a Canker Sore?
Canker sores form for a number of reasons, such as:
Physical injury

Vitamin deficiency, primarily vitamin B12, iron, folate

Stress

Hormonal fluctuations
Canker sore formation may also be due to your dental habits. Brushing too hard with a hard-thistle brush, for example, can leave an abrasion that evolves into a sore. This is one of reasons many oral surgeons recommend light brushing. Another reason not to brush too hard is because it erodes enamel.
Some studies also hint at a possible link between sores and the common toothpaste ingredient sodium lauryl sulfate. A useful dental tip is to consider a toothpaste without that particular ingredient.
Treatment
Canker sores normally heal on their own within a week or two. Until then, though, it's going to be painful. Luckily, there are a few remedies that provide temporary relief. For example, you can buy over-the-counter anesthetic gels. These are not unlike the ones used by dentists.
You can also make your own DIY gel by mixing olive, peppermint, and eucalyptus oil. The mix has a cooling property that numbs the pain. It also contains anti-microbial and anti-inflammatory properties.
See Your Dentist near Everett
Contact us at Mukilteo Dental Arts today. Our family dentists may be able to pinpoint the root cause behind your canker sores. Our team knows how unpleasant a canker sore can be, and healthy dental habits may be key to preventing their development.
Canker Sore Tips & Dental Treatment for a Healthy and Pain-Free Smile
General family dentistry for Mukilteo, Everett, Lynnwood, Edmonds & Mill Creek
---
Posted on October 15, 2021 | Published by Ignite Local | Related Local Business